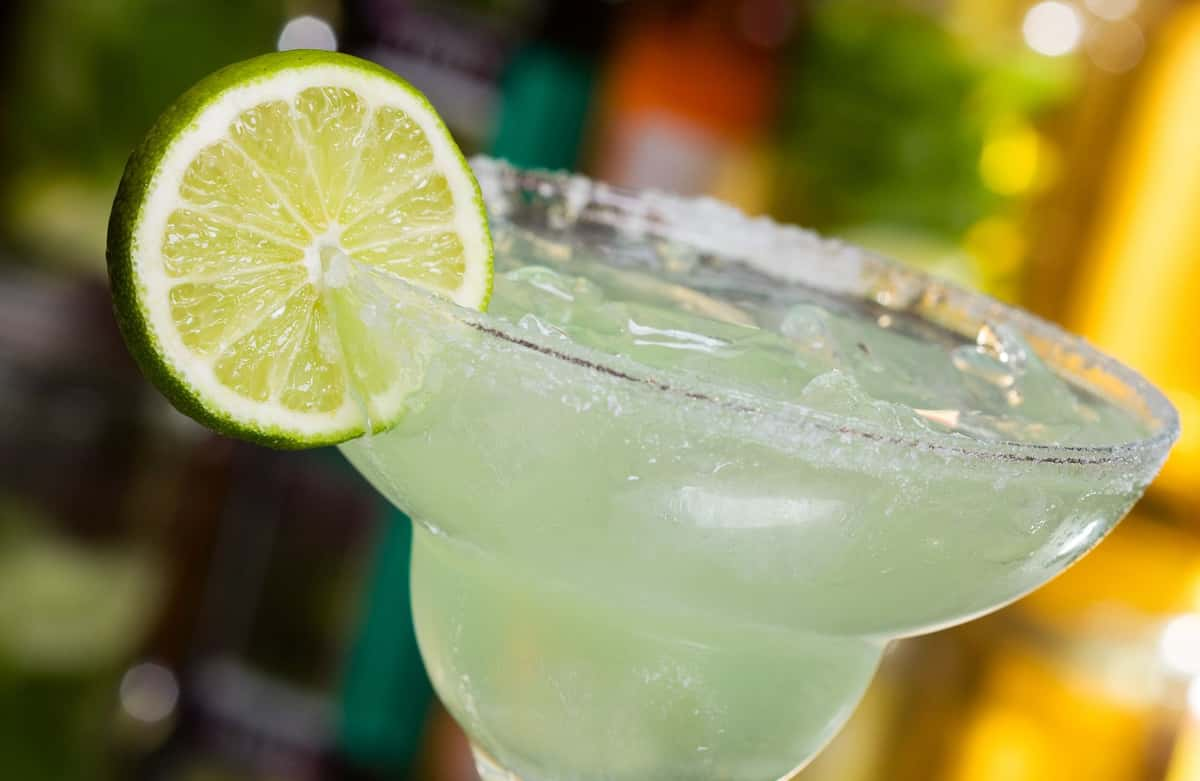 Margaritas, Cocktails, Beer & More...
Margaritas
The OG -

Famous for 10 years, The Original, House Tequila, Triple Sec, Fresh Juices
The Golden -

Patron, Fresh Juices, Topped with a Grand Marnier Floater
Rattlesnake -

Tanteo Jalapeno Tequila, Triple Sec, Fresh Juices, Spicy Rim
Pineapple Coconut - 1800 Coconut Tequila, Triple Sec, Coconut Puree, Fresh Juices, Toasted Coconut Rim
Flying Melons - Our Traditional Margarita topped with Watermelon Redbull, Tajin Rim
Strawberry Basil Margarita - Casamigos Reposado, Fresh Lime, Strawberries and Fresh Basil
Afterburner - Award Winning

Casamigos Mezcal, Dolce Vida Pineapple Jalapeno Tequila, Pineapple and Lime Juices, Smoky Rim
Flavor Margaritas - Mango, Peach, Strawberry, Raspberry, or Watermelon


Tequila Crushes
Velencia Orange - 21 Seeds Velencia Orange Tequila, Triple Sec, Fresh Squeezed OJ, Sprite
Skinny Lime - Dulce Vida Lime Tequila & Soda Water
Paloma - Dulce Vida Grapefruit Tequila, Triple Sec, Fresh Grapefruit Juice, Fresh Lime Soda
Vodka Crushes
Blueberry Lemonade - Acai Blueberry Vodka, Triple Sec, Fresh Lemon, Topped with Sprite
Bourbon Crush - Makers Mark, Fresh OJ, Triple Sec, Sprite
Key Lime Pie - Vanilla Vodka, Key Lime Rum Cream, Fresh Lime, Triple Sec, Splash of Sprite & Whipped Cream
The Typical Suspects! Orange, Grapefruit, Lemon, Creamsicle or Mango - Western Son Flavored Vodka, Fresh Juice, Topped with Sprite • Skinny? No triple sec and a splash of soda
Cocktails
Bloody Maria - 21 Seeds Cucumber Jalapeno Tequila, George's Bloody Mary Mix
Sparkling Beach - The Beach Rose, 21 Seeds Grapefruit Hibiscus Tequila, Fresh Grapefruit, Lime Juice, Soda Water
Watermelon Mojito - Titos Vodka, Fresh Watermelon, Mint, Simple Syrup Soda
Hot Mom Summer - Ranch Water made with 1800 Blanco
Strawberry Lemonade - Western Son Strawberry Topped with Lemonade Nutri
Prickly Pear Cosmo - Western Son Prickly Pear, Triple Sec, Fresh Lime, Cranberry Juice
Pain Killer - Coconut Rum, Spiced Captain Morgan, Coconut Puree, Orange and Pineapple Juices, topped with a Myers Dark Rum Floater
Mango Mama - Coconut Rum, Mango Rum, Cranberry and Pineapple Juices
Mimi's Chocolate Martini - Vanilla Vodka, Chocolate Liquor, Kahula, Baileys
Espresso Martini - Three Olives Expresso, Cantera Negra Cafe, Kahlua
Frozens
Lime, Peach, Pomegranate, Raspberry, Strawberry or Mango, Watermelon Margarita
Milkshake - Baileys, Chocolate Liquor, Vanilla Vodka, Chocolate Swirl
Pina Colada or Strawberry Daquiri
Sangarita - Our House Frozen Margarita swirled with Red Sangria topped with seasonal fruit


Bombs $6
Blueberry, Cherry, Lemon, Orange, Vegas, Sour
Red Bull Flavors: Sugar free, Tropical, Watermelon, Coconut
Just Need A Redbull? $3
Mocktails $7
Spicy Jalapeno Margarita - Fresh Muddled Jalapenos, Fresh Orange and Lime Juices with a Spicy Rim
Strawberry Mojito - Muddled Limes & Strawberries, Fresh Mint, Simple Syrup, Soda and Sprite
Blueberry Lemonade - Blueberries, Fresh Squeezed Lemon, Simple Syrup, Pink Lemonade
Pina Colada Spritzer - Pineapple Juice, Coconut Puree, Sparkling Water
Peach Mule - Fresh Lime, Peach Puree, Cutwater Ginger Beer
Flavored Ice Tea - Ask your server abut the flavor of the day!
Have a question about a drink? Just Ask! Our drinks are Non-Refundable so if you're unsure,
stick with a classic favorite!
Beer
Budweiser & Bud Light 5
Coors Light 5
Corona & Corona Light 6
Dogfish 60 Minute IPA 7
Dogfish Citrus Squall 7
Dogfish Mandrian and Mango Crush Ale 8
Dos Equis Ambar & Lagar 7
Mich Ultra 5
Miller Lite 5
Natural Light 4
Yuengling & Yuengling Flight 5
Modelo Especial & Negra 6
Pacifico 6
Angry Orchard
Alternatives
White Claw 9
White Claw Vodka & Soda 11
Highnoon 9
Nutrl 8
Hoop Tea 7
Mango Cutwater Margarita 12
Dogfish Can Cocktail 9
Blood Orange & Mango or Strawberry & Honeyberry
Loyal Mixed Berry Lemonade 10
Non-Alcoholic
Budweiser Zero 4
Buckler 5
Red Wine
Glasses come in a 6 oz or 8 oz pour
House Red Wines 7 9 21
Frontera Cabernet Sauvignon, Merlot, Pino Noir (Central Valley, Chile)
Alto Malbec 8 10 24
Black fruits as plum and berries in harmony with toasted hints and spicy notes of white pepper (Mendoza, Argentina)
Apothic Red Blend 10 12 26
Intense fruit aromas and flavors of rhubarb and black cherry that are complemented by hints of mocha and vanilla (California)
White Wines
Glasses come in a 6 oz or 8 oz pour
House White Wine 7 9 21
Chardonnay, Pino Grigio, Sauvignon Blanc (Central Valley, Chile)
Kendal Jackson Chardonnay 13 15 40
This medium-bodied, barrel-fermented wine offers light, toasted oak aromas, attractive baked apple flavors and accents of butter and vanilla (California)
Oyster Bay Sauvignon Blanc 13 15 40
Fragrant nose of passion fruit, guava, lime curd and star fruit, Medium-bodied with tangy acidity and a crisp, fruity palate (Marlborough, New Zealand)
Rose & Bubbly
Glasses come in a 6 oz or 8 oz pour
House White Zinfandel or Pink Mascato (California) 7
Relax Riesling 10
Fruit forward with floral aromas of apples and peaches with just a hint of citrus (California)
The Beach Rose by Whispering Angel 13
Fruity and Floral (Provence, France)
Take-Out may not be available during busy times at the restaurant.
Sorry for any inconvenience and thank you for your understanding.
Disclaimer: Menu, pricing, and availability are subject to change without notice.
(GF) = Gluten-Free, (GFR) - Gluten FRIENDLY - May have come in contact with foods that contain gluten, ex. fries are cooked in the same fryer that breaded items have been cooked in, but the menu item is gluten-free
**Coupons not valid on Events, Happy Hour, Specials, or Take-Out**
Consuming raw or undercooked meats, poultry, or seafood may increase your risk of foodborne illness.